Pump Infrastructure
Fabrication Products
Products for Pump Infrastructure Systems
At Profab, we manufacture pump infrastructure components for a wide variety of applications. Each of our products is made to your specifications for size, configuration, materials, and by certified welders.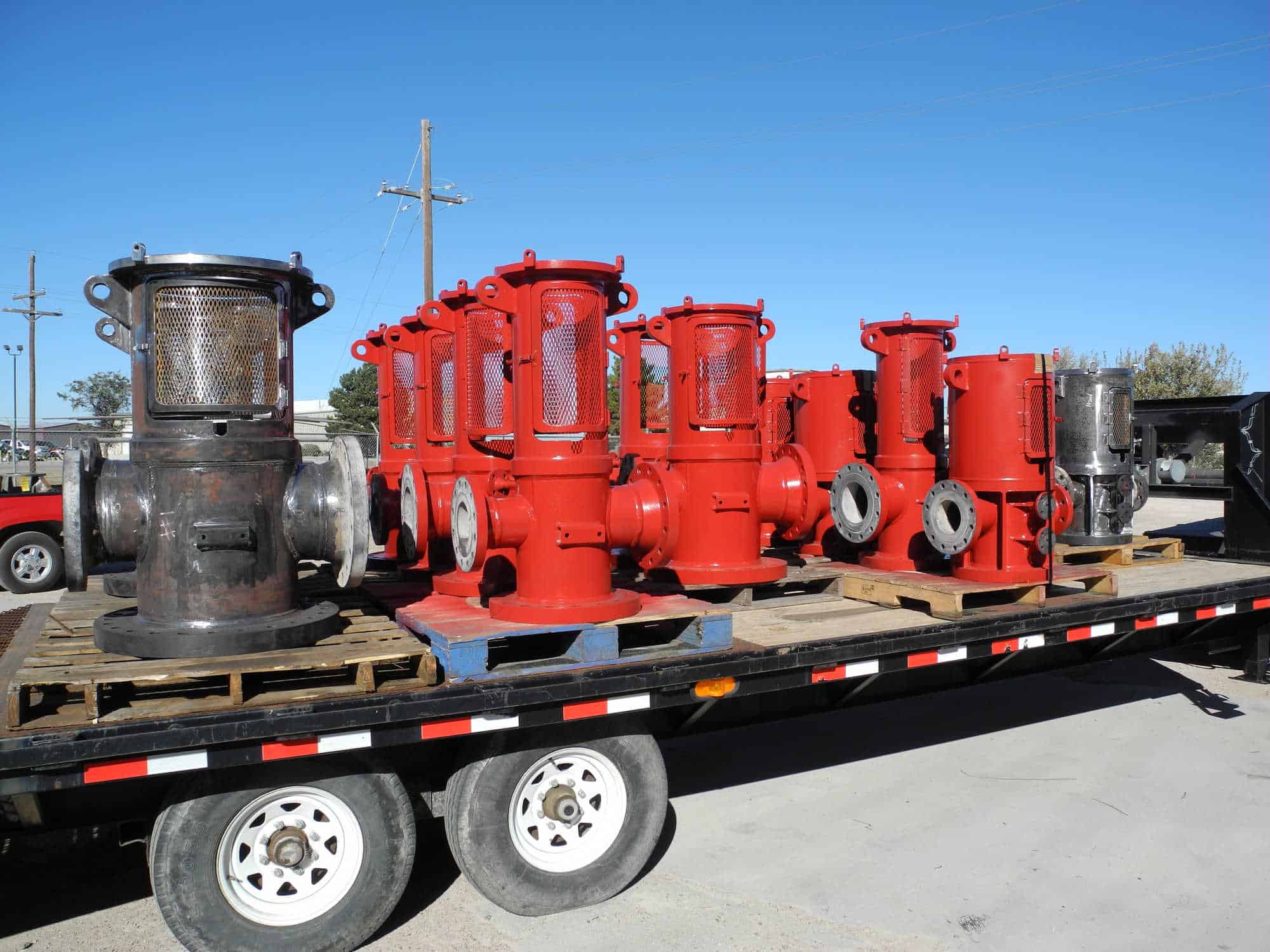 T-Head Fabrication
T-Heads are used for booster pump applications where fluid is moved from a well field or lake into infrastructure where it can be treated and distributed. These are also used in other fluid transportation applications including jet fuel, butane, propane, HVAC systems, and more. Using a T-Head, fluids are boosted from their source increasing pressure to force the fluid further up through the system.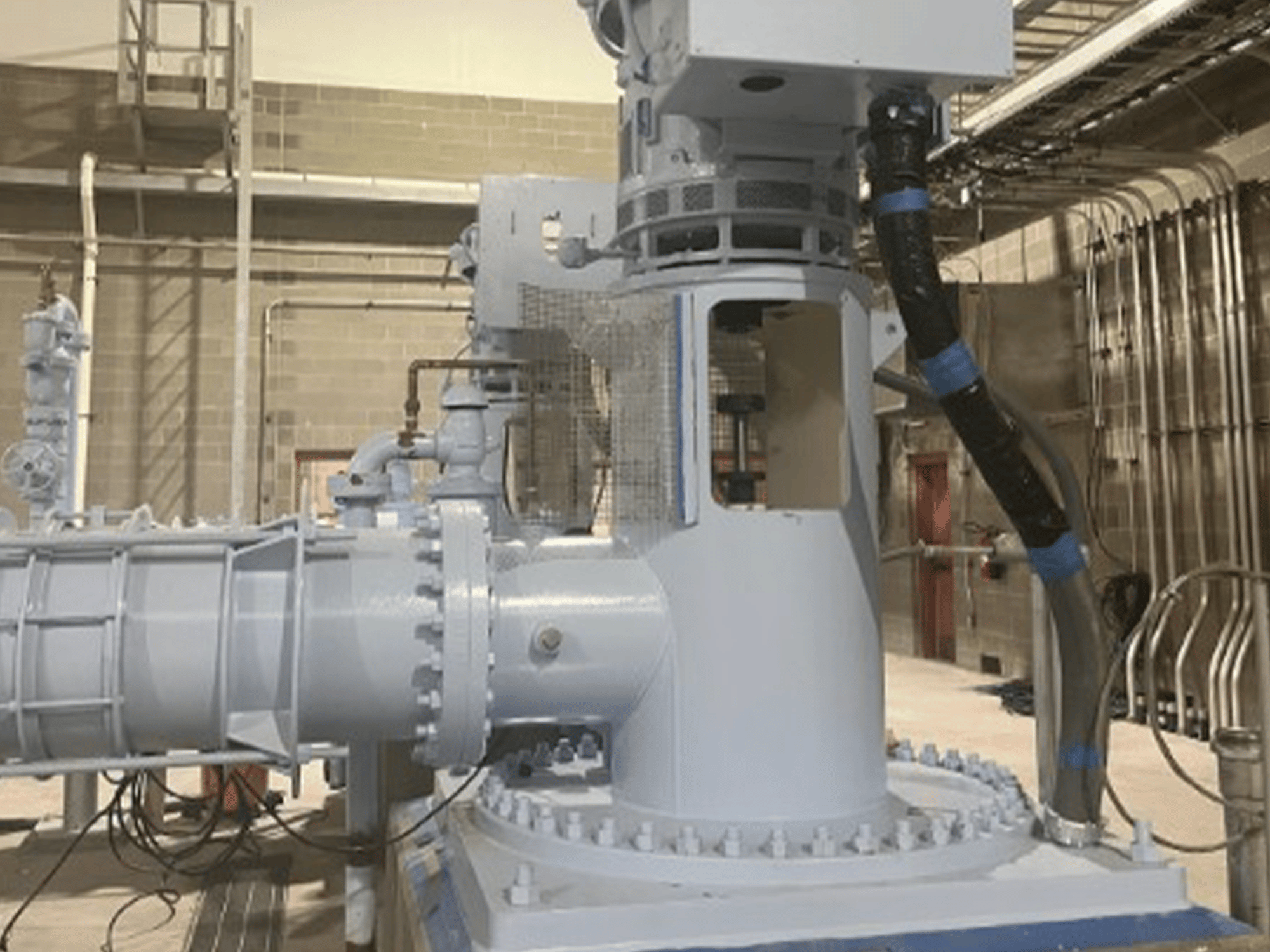 L-Head Fabrication
L-Heads, while similar to a T-Head, are used to move fluid from a barrel, through a pump, and on to the discharge of the system. A common application for L-Heads is in a municipal water system, but these are also used in other fluid movement applications including fuels,  and HVAC systems.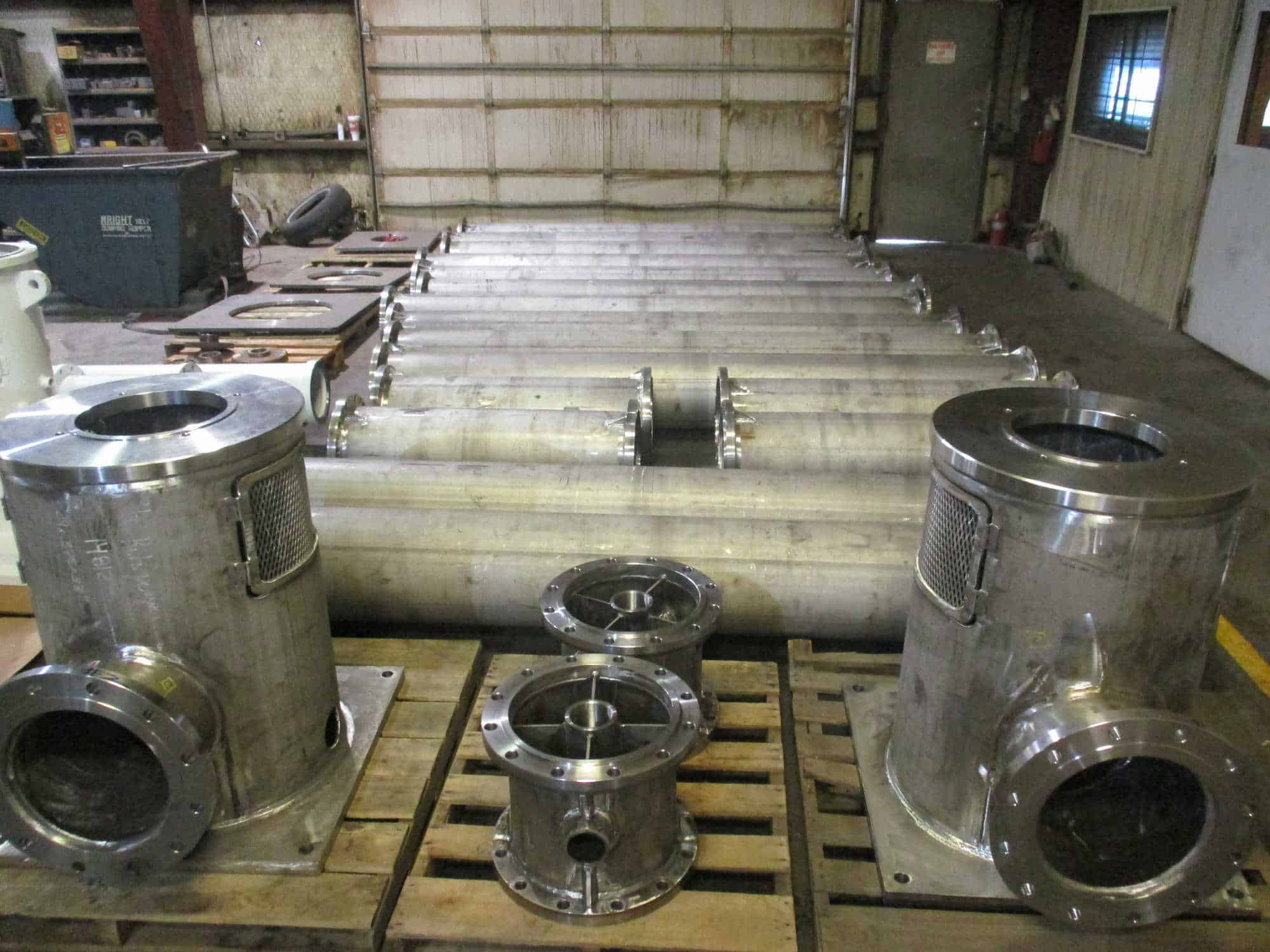 F-Head Fabrication
F-Heads are often used in short runs of fluid movement. They aid in moving fluids like water from a tank, well, or reservoir into holding tanks or treatment centers. From there, the fluid is distributed out. These are common in applications such as crude oil, natural gas, propane, jet fuel, water systems, mining, etc.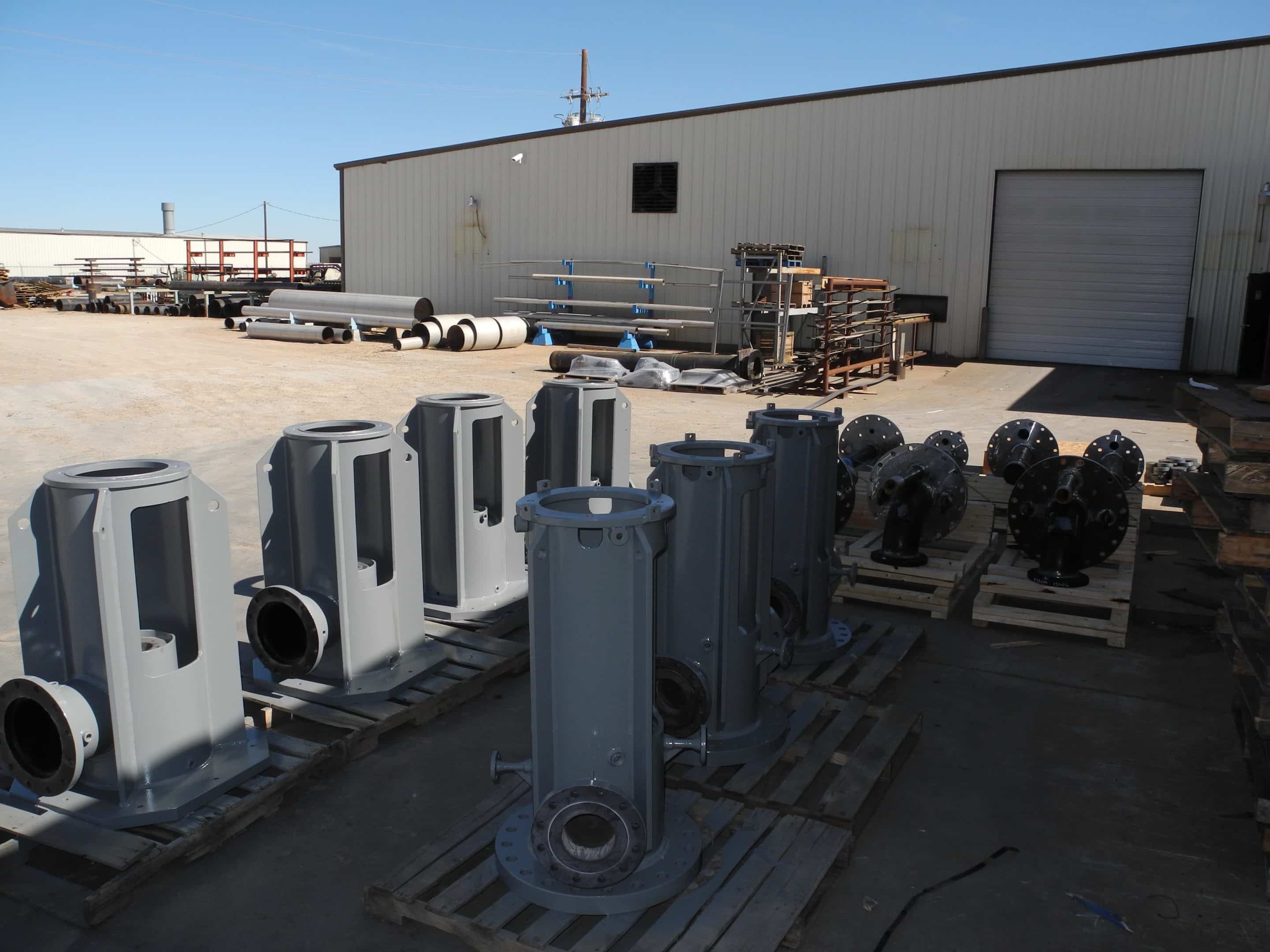 Sub-Head Fabrication
Sub-heads, or submersible heads, are used with submersed pumps for lower volume applications. These are typically implemented when pulling water from a well or tank, but are also common for dewatering mines. The application of sub-heads is based on the amount of water to move and also the depth from which the water is coming. A motor and pump would be mounted on the bottom end pushing water up to be future distributed.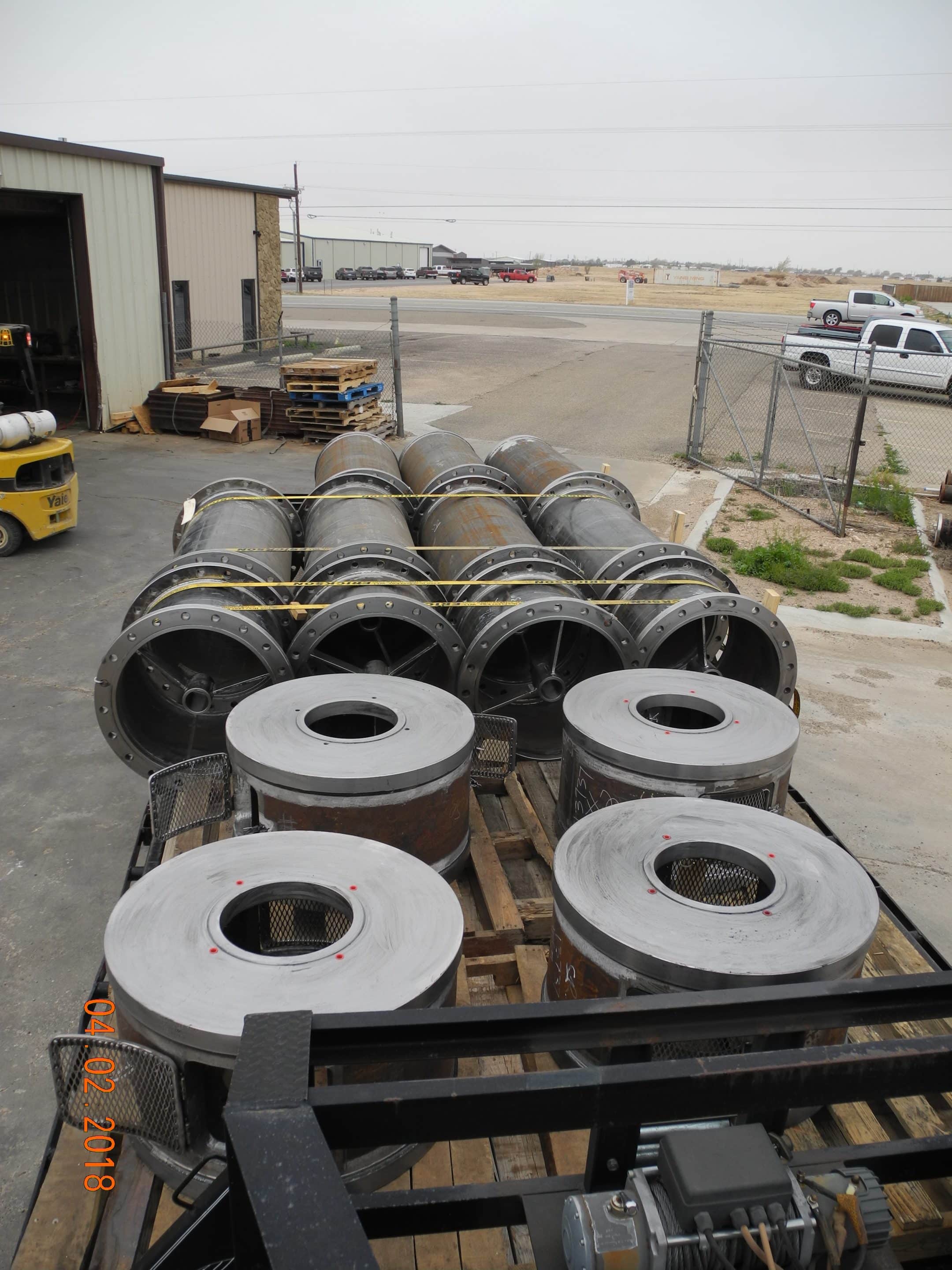 Motor Stand and Adapter Fabrication
Motor stands and adapters are found in similar applications where it is necessary to space the motor from the head or additional components in a fluid moving system. Sometimes the can also upgrade or downgrade the size of components allowing the adaptation of various sizes of components such as vertical turbines.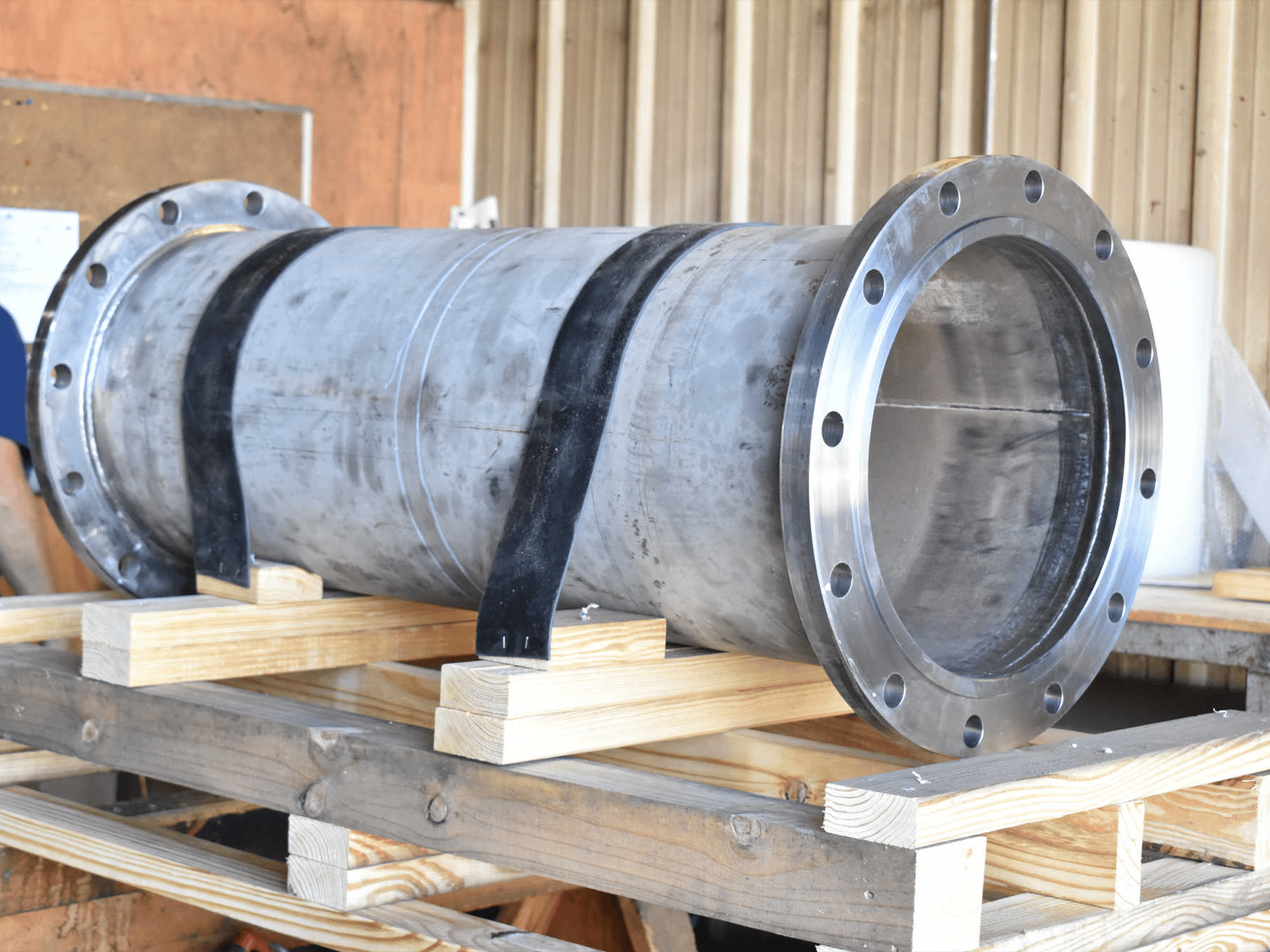 Flanged Column Pipe Fabrication
Flanged column pipe is used when connecting a pump to a discharge head. Flanged column pipe will work with all head types and our certified welders manufacture your column pipe to your exact specifications.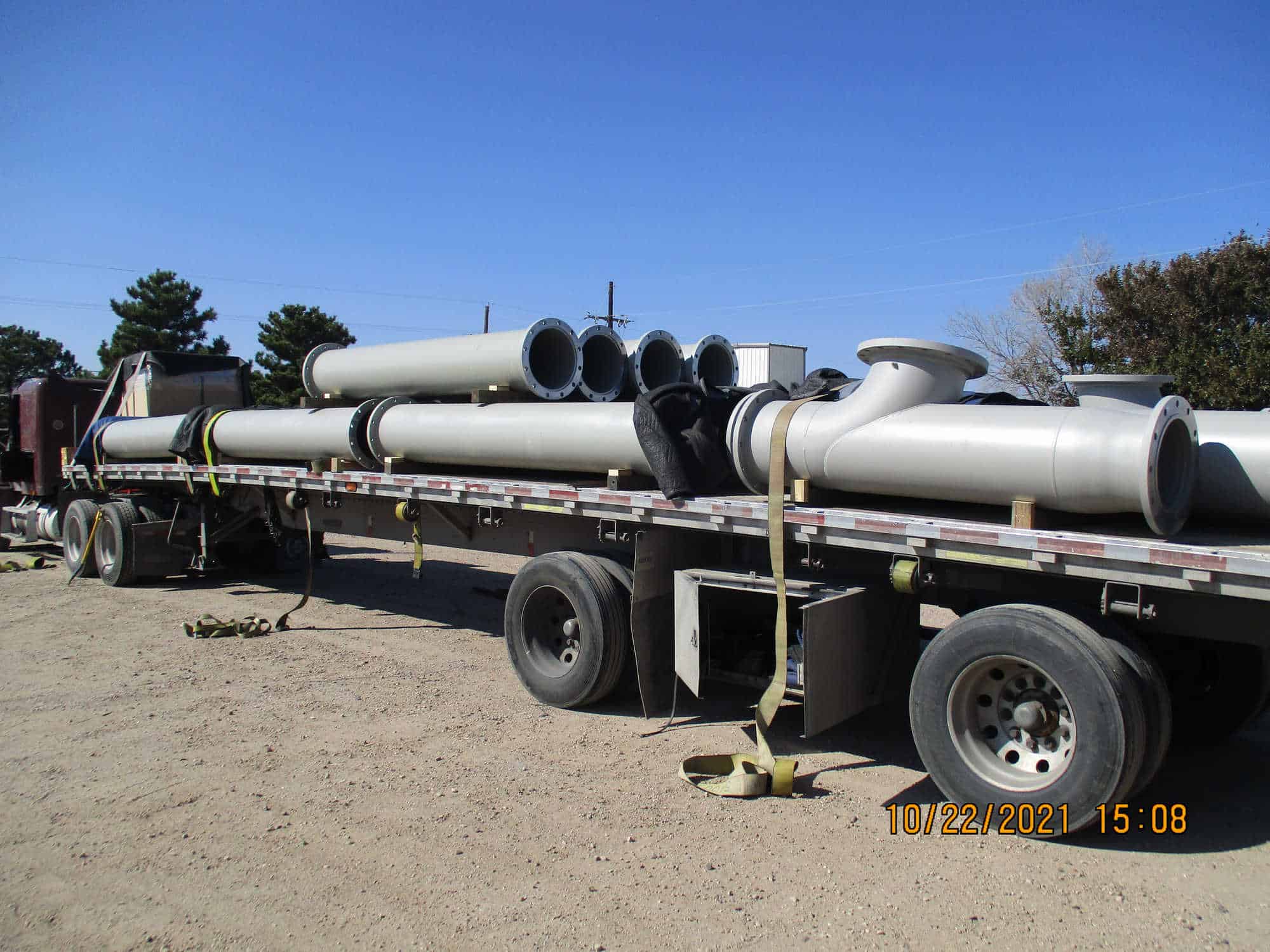 Underground Discharge Fabrication
Our custom underground discharges are made of column pipe with an attached discharge. These typically connect a motor pedestal or motor stand and discharge fluid underground instead of into a discharge head as in above ground applications. Common applications include water systems, oil transportation, and fuel movement systems.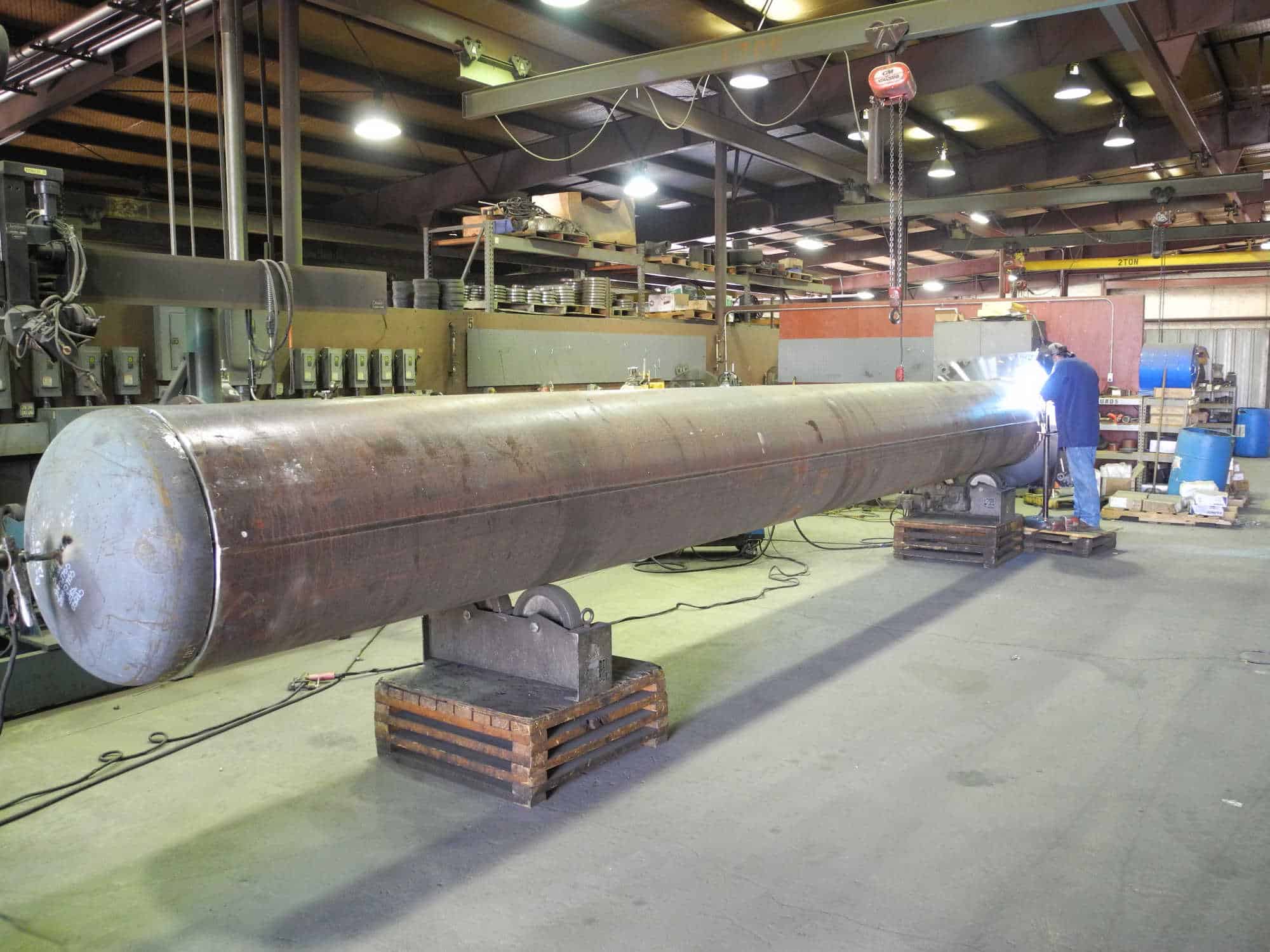 Barrel Fabrication
Barrels for fluid movement applications range from 3 feet long up to 40 feet long. They typically sit in the ground with a receiver on one end. Water is pumped into this barrel via column pipe and a head. Pressure is then increased moving the fluid through the distribution system.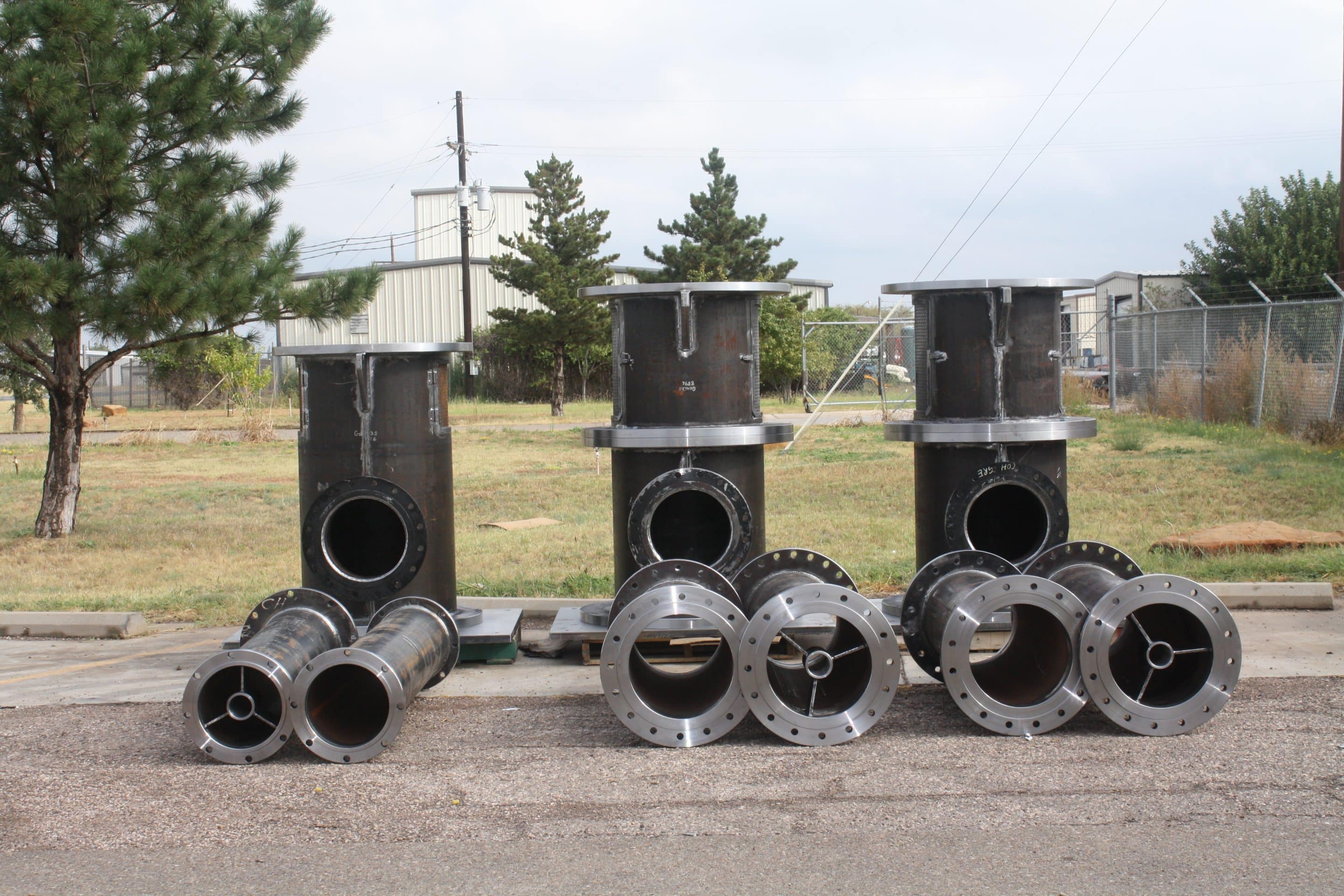 Non-Destructive Examination
We offer NDE, Non-Destructive Examination, for any application according to your engineering specifications. This is designed to find any imperfections in manufactured components before they are installed into the final application. If certification is required, this is completed before the components are delivered to the end customer.
X-ray
Phased Array
UT or Ultra Graphic Testing
Dye Penetrant
Mag Particle
Thermal Stress Relieving
Vibe Stress Relieving
Hydro Testing
Certified Weld Inspections – CWI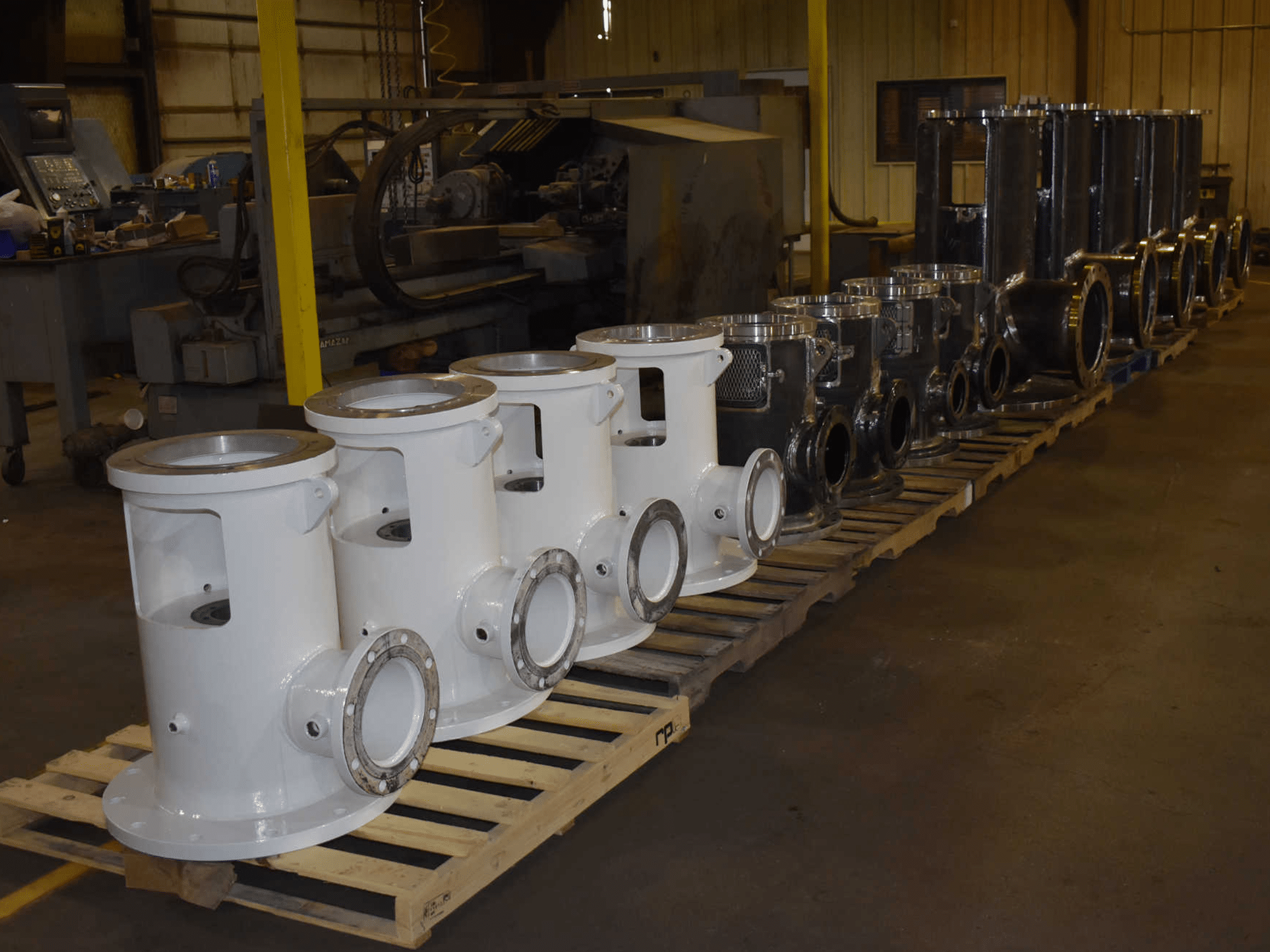 Specialized Materials and Coatings
We offer a wide variety of specialized materials and coatings to meet your engineering specifications. Our NSF approved coatings include:
Scotch Kote
Tnemec coat
Carboline
And More…
Our certified welders are experienced in a wide variety of metals and applications including:
Carbon Steel
 Stainless Steel – 304SS – 316SS
2205 Duplex
2507 Super Duplex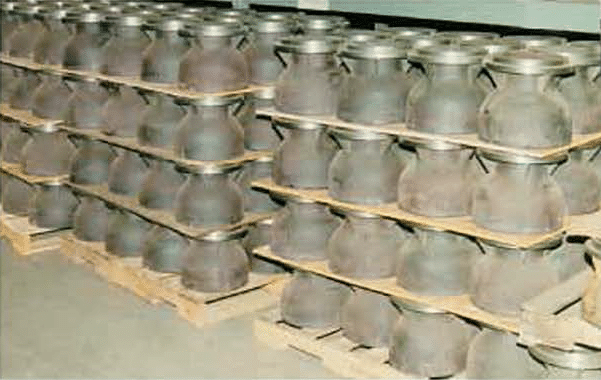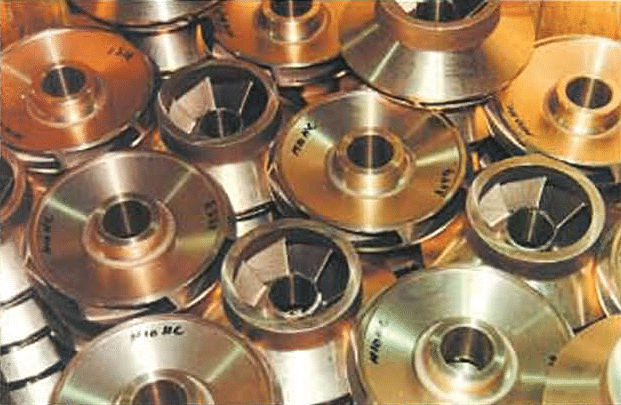 CUSTOM MACHINING SERVICES
As a company based in the United States of America, we can deliver US products with a faster turnaround time than overseas suppliers. Some of our custom machining includes pump bowls, impellers, cast iron discharge heads, and packing boxes.
Interested in Our Products?
If your business is in need of any of our products please Contact Us today. Or if you want to learn more about our Products head over to: